John's Family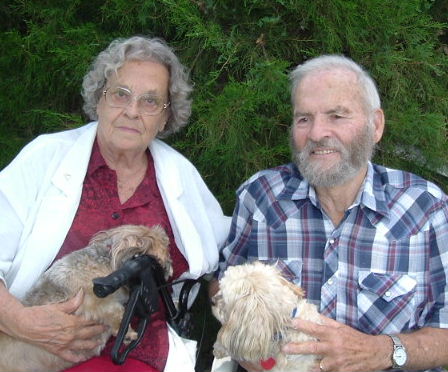 John's parents - John & Fannie Darrow - August 2005
John and Fannie Darrow named Distinguished Citizens

By Wyquita Winton
Special to the Citizen
Florence residents John and Fannie Darrow have been named the Distinguished Citizens for the 2005 Pioneer Day celebration.
Residents of Florence since March 1956, they have found themselves involved in several activities.
They volunteered at St. Joseph Manor many years, conducting the Bingo program for the residents. After it closed, they moved on to St. Thomas More Progressive Care Center at Canon City, where they continue with the program.
The Darrows feel it is a great honor and feel "very humble" to have been selected as the Distinguished Citizens. She said, "I don't feel we deserve anything like that." He commented, "We have been around a long time and did what we could."
They are active in the First Assembly of God Church, where he served as treasurer, and the Florence Senior Center. At one time, he was treasurer of his local union and the Fremont School PTA and PTO, all at the same time.
They were also Boy Scout and Girl Scout leaders. One year she was named the Florence Business and Women's Woman of the Year.
The Darrows for many years directed the St. Joseph Auxiliary cake walk on Pioneer Day and worked at their church's booth. They noted they weren't able to take in the parade, as they were busy setting up things at Pioneer Park. They always enjoyed visiting with the people at the park.
Darrow noted they moved to Florence, because they wanted to get out of Colorado Springs. They purchased the property where they continue to live in 1950, but weren't able to move until six years later after they got their home built and their son Kenny was 10 months old.
They commented that when they moved to their home, there were only three neighbors in the area. Now, homes are continuing to be built nearby.
Being in construction, he said his work was slack, so that is when he started building the home of cinder blocks. It now has its second siding.
Darrow worked in construction for the DDM Concrete Company in Colorado Springs, commuting for several years. The workers did curb, gutter, and sidewalk work. He noted the company did the flatwork at the Air Force Academy stadium. It also had contracts several times for the city of Colorado Springs.
Other employments included three months in janitorial service at the Colorado State Veterans Home in Florence and home repair for the elderly for COG. His final employment was with the Pueblo West Inn as a maintenance man. He also served the Committee of Architecture as inspector for Pueblo West.
Darrow served in the United States Army from 1942-45. He was wounded in November 1943, in Italy, when shrapnel went through his stomach.
He was with the group that invaded France, serving with the 753rd Tank Battalion. He noted there were six different Army Corps, with 15 different divisions, with three different Armies.
Darrow said he experienced 486 days contact with the enemy.
Honors he received include the Soldiers' Medal for saving a tank - which was on fire with a soldier in it - from blowing up, and the Purple Heart for his injury.
After returning home, he joined the Colorado National Guard and served 13 months active duty during the Korean Conflict.
The Darrows were married April 5, 1949, at 8 a.m., in Colorado Springs. He then was called to Fort Carson, where he was to drive a tank in the Armed Forces Parade in Colorado Springs.
During his National Guard duty, he trained troops and was assigned to Fort Knox, KY, for three months, where he trained them on armor.
He also served on the general court martial board as an assistant prosecutor.
The Darrows have seven children, Barbara and Dorothy, both deceased, John, David, Kenneth, Elizabeth and Chris. They have 26 grandchildren and 19 great-grandchildren.
From the Florence Citizen, August 18, 2005 - used by permission